5D4N Private Palau Luxury Experience
Highlights
Exclusive private experiences
Kayak Tour through Nikko Bay
Snorkel around Rock Island

Classic snorkeling spots: Milk Lake, Shark Island Lunch, Shark City, Jellyfish Lake, Scallop City, Blue Staghorn Coral
Description
4 Nights accommodation with breakfast and dinner, 2-way flight transfer from Roman Tmetuchl International Airport to resort in Cove Resort Palau or Palau Pacific Resort.
Palau, a tropical paradise nestled in the Pacific Ocean, is a destination that captivates with its natural wonders. With crystal-clear turquoise waters, Palau boasts stunning coral reefs teeming with vibrant marine life. The iconic Rock Islands, a UNESCO World Heritage Site, showcase breathtaking limestone formations and hidden lagoons waiting to be explored. From diving in world-class dive sites to swimming with harmless jellyfish in Jellyfish Lake, Palau offers unique and unforgettable experiences. Immerse yourself in the warm hospitality of the Palauan people, indulge in delicious seafood, and relax on pristine white-sand beaches. Palau truly embodies the essence of a tropical paradise.
Inclusions
4 Nights' accommodation with breakfast and dinner based on double-sharing basis 
Meals are on half board basis (5 Breakfasts, 4 Dinners)
Tours and admission tickets as per mentioned in the itinerary
Transport in an air-conditioned vehicle with the services of an English speaking chauffeur and guide as per the itinerary except during free and easy schedules
All government taxes
Exclusions
Flight tickets and airport taxes
Travel / Covid Insurance
Tipping for guide and driver
Personal expenses such as international call charges, minibar, laundry
Any other items that is not mentioned in the inclusions above
Terms and conditions
The above rates quoted are in Singapore Dollars (SGD)
The above rates quoted are inclusive of prevailing taxes
All rooms and rates are subject to availability
*Please note that International check-in time is at 3PM local time. 
*For early check in requests are subject to additional charge. We recommend to pre book the room 1 night before your arrival date to secure a guaranteed early check in.
********************************************************************************************
Cove Resort Palau (Optional)
Pre-book for 1 additional night for guaranteed early check in @ SGD 445.00
Palau Pacific Resort (Optional)
Pre-book for 1 additional night for guaranteed early check in @ SGD 660.00
Itinerary
Day 1 - Arrival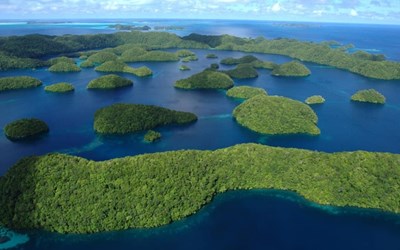 Your five-day adventure kicks off as you arrive in Palau. Upon arrival, our dedicated representative will greet you and guide you to your chosen resort. There, we'll arrange for your bags to be securely stored, allowing you to relish a leisurely morning. Savor a delightful breakfast while taking in the tropical ambiance. Use this time to adjust to the
island's charm, setting the stage for the exhilarating days of discovery that lie ahead in Palau.
Meals: Refreshment / Dinner
Day 2 - Sea Kayaking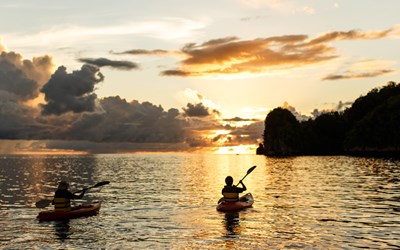 Breakfast in the resort.
Embrace the tranquil beauty of Palau's coastline on your second day. Set out on a sea kayaking expedition and paddle through the serene waters and marvel at the vibrant marine life beneath you; and explore hidden coves, limestone islands and lush mangrove forests.
During your expedition, you will have the opportunity to encounter colorful coral reefs and a multitude of aquatic species. Let the soothing sounds of nature surround you as you immerse yourself in the serene ambiance of this picturesque paradise.
This is an ideal way to appreciate the coastal wonders and an active and immersive way
to experience the beauty of Palau.
Meals: Breakfast / Dinner
Day 3 - Rock Island Snorkeling Tour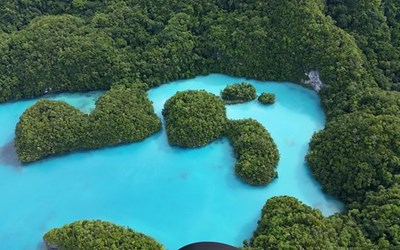 Breakfast in the resort.
Prepare for a day of awe-inspiring and captivating exploration. You'll venture to the renowned Rock Islands, a UNESCO World Heritage site known for its vibrant coral reefs, diverse marine life, and breathtaking underwater landscapes.

Classic snorkeling spots on the east line: Milky Lake, Natural Arch, Snorkel Big Drop Off.

During the snorkeling tour, you will have the opportunity to explore the vibrant coral gardens, swim alongside colorful tropical fish, and witness the beauty of various marine species. As you glide through the water, you may encounter sea turtles, manta rays, and an array of other fascinating marine creatures. The pristine waters of Rock Island Palau offer excellent visibility, allowing you to fully appreciate the underwater wonders that
surround you.

The highlight of the day is a visit to the world-famous Milky Lake, a natural spa where you
can indulge in a therapeutic mud bath. This day promises a surreal and unforgettable
experience amidst the beauty of Palau's marine wonders.
Meals: Breakfast / Dinner
Day 4 - Free and Easy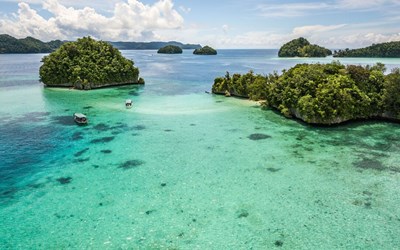 Breakfast in the resort.
Your penultimate day in Palau offers even more opportunities for relaxation and exploration.  You can revisit your favourite spots or discover new ones.  This day is all about embracing the freedom to tailor your experience to your preferences.
Meals: Breakfast / Dinner
Day 5 - Departure
Early breakfast.
As your 5-day journey in Palau comes to a close, cherish the memories you have created in this extraordinary island nation.
After checking out, you will head to the airport for your departure. With a heart full of experiences and a camera full of pictures, bid farewell to Palau, knowing you've had an unforgettable adventure in this captivating paradise.
Meals: Breakfast